1998 REUNION
Several people had suggested that a reunion of the remaining "officers" of all ranks from the Pacific Steam Navigation Company should be held as soon as possible before we are all too old to lift a pint mug and our memories fade beyond recognition.


After putting a letter into "Sea Breezes" thirty ex-PSNC Captains, Deck, Engineering and Electrical Officers and Pursers had contacted me.

Photographs of some who attended November 1998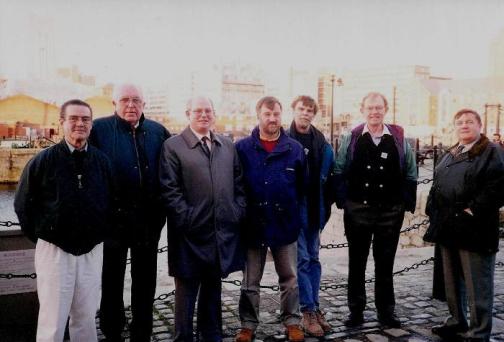 Ron Berry Ken Crowther Barry Erskine &nbsp Hugh Farrell Pete Lewis Keith Nuttall Neville Lester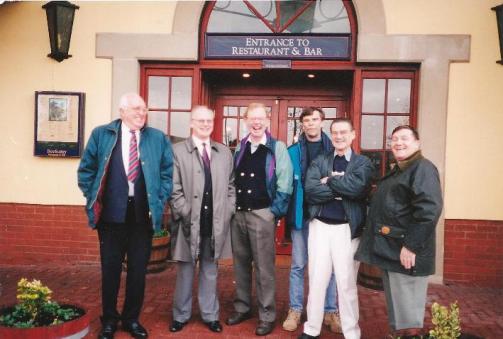 Ken Crowther Barry Erskine Keith Nuttall Peter Lewis Ron Berry Neville Lester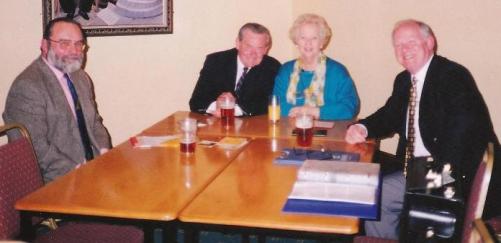 John Wright Capt. David Houghton and his wife Sheila Barry Erskine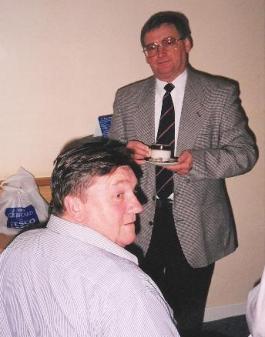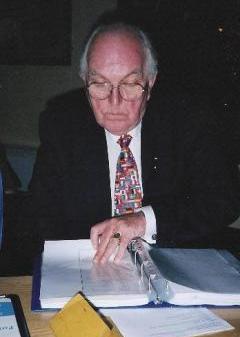 Neville Lester Les Moore Ken Crowther
Barry Erskine John Wright
---
These were the arrangements for 27th and 28th November 1998 1998
As Mr A.E. "Fred" Mullen had suggested we join with the PSNC Friends Association when they hold their annual informal reunion there will two opportunities to meet old friends :-

1. We will meet on Friday 27th November at 8.00 pm at the Cornmarket Hotel (which is actually a pub) on Fenwick Street, reached from James Street not far from the Queen Victoria Monument. This is also the annual get-together of the PSNC Friends Association when former office and sea going personnel have been meeting for some years and we will be joining them.

2. We have also booked a function room at the Packet Steamer Travel Inn on Northern Perimeter Road, Netherton, Liverpool L30 7PT (Tel 0151 511497) for the following evening, Saturday 28th November, from 7.30 pm onwards. This is a totally casual evening for ex sea-going staff with nothing formal arranged but Bar meals will be available. Naturally, spouses will be welcome too. The decision to have two evenings was in order to make it easier for people to manage one or other of the evenings or both if you come from a distance like the Scottish contingent !

I intend staying at the Travel Inn on both nights and spending part of Saturday at the Liverpool Maritime Museum which I have never visited before. Maybe a group might wish to go? Unfortunately, my wife Anne will not be accompanying me as she will be on the first weekend of a Day Skipper's theory course for sailing.

A map showing the location of the venue for Saturday night is available if you need it; I will leave it to you to book yourself in if you intend staying there - cost is £38 for a double room (double or twin).

It would be helpful if you could let me know if you intend to join us and on which evening.

Get in touch if you need any more information.
---
Reunion Report!!
It was really great to meet up with so many former colleagues and shipmates after all this time. If you managed to get to Liverpool Corn Market on Friday 27th November '98 or the Packet Steamer on the Saturday you will know what I am talking about; if not you missed a great weekend and we missed you! I think we all had a severe dose of nostalgia.

Maybe next time we can all take along some photos and we can arrange for a slide projector and screen. It was fascinating looking over the pictures some of you had with you.

On Friday we met with some of the former office staff, including Len Upton who informed me he had been the Super. in charge of Cadets. It was nice to meet him and learn this as I had never met him previously during my 9 years with PSNC! There were also one or two sea-going personnel with whom we had had no previous contact regarding a reunion in the Corn Market so that was a bonus. Also a couple of people have made contact for the first time since the reunion.
A group of eight of us went round the Maritime Museum in Liverpool on Saturday and found that we would have needed several days to do justice to the extensive exhibits: we only skimmed the surface.

For your interest, I have listed the sea-going personnel who attended each evening.

Having got this group off the ground I am hoping someone will be sufficiently enthusiastic to take over from me - possibly someone living in the Liverpool area where many of you seem to be resident. My problem is that I will be commissioning a new yacht in April so my time will be spent overseeing that and sailing on the West Coast if the weather is reasonable.

However, I will keep in touch meantime but feel free to call or write should you wish to make any suggestions. By the way Keith Nuttall was very keen to repeat early next year the trip that four of us with wives did a year past August - up the Manchester Ship Canal on a Mersey ferry - as we had a great time. Keith wants to see if we can repeat the exercise and drink the boat dry of a certain beer again. Everyone said we should definitely meet in the Packet Steamer again next year. What do you think?

May I wish you all a blessed and peaceful Christmas and a prosperous and happy 1999.

Those who attended
Ron Berry - Friday & Saturday
Ken Crowther - Friday & Saturday
Barry Erskine - Friday & Saturday
Hugh Farrell - Friday & Saturday
William Johnson & wife (sorry I didn't get your name)- Friday & Saturday
Neville Lester - Friday & Saturday
Peter Lewis - Friday & Saturday
Les Moore - Friday & Saturday
Keith Nuttal - Friday & Saturday
James Sullivan & wife (sorry I didn't get your name) - Friday & Saturday
Don & Les Wheeler - Friday & Saturday
David & Sheelagh Houghton - Saturday
Mike Edwards - Friday
Steve Goodchild - Saturday
Peter McSally - Friday
Les Morrison - Friday
Liz Rybert (now Chittenden) & husband - Friday
Brian Stone - Friday
Brian Walmsley - Friday
John Wright - Saturday


We did have apologies from a number of people who have indicated they would definitely attend another event next year.

Sorry to take so long to update these pages but things have been quite hectic since I got home.

Yours aye, Barry

Top of page
---
Photo Index . . . PSNC index page