2006 Reunion Report
Friday 17th & Saturday 18th March 2006
Last updated 13th April 2006
The Packet Steamer, Netherton, Liverpool was the venue again for this EIGHTH Reunion.
It was a casual event for ex-PSNC sea-going officers ie. Captains, Deck, Engine, Electrical and Radio Officers, Pursers and Chief and Second Stewards.
As usual, no formal meal was arranged but groups got together to enjoy excellent (discounted) Restaurant and Bar meals, often served by "our own" Anne Copeland.
We had the usual two evenings to make it easier for people to manage to attend one or other of the evenings, or both for those from a distance like the Scottish and Irish contingents or our overseas friends from Australia and New Zealand!
Friday evening was a get-together over a few pints and on Saturday night we enjoyed a short slide show which provided much merriment . . . but nothing too embarrassing for those present!
Part of Saturday was spent at the Liverpool Maritime Museum and a liquid/sandwich lunch at the Pump Room. The ladies were welcome to come too but most seemed to enjoy retail therapy instead.

We were delighted to welcome a couple of special guests who made brief appearances on Saturday.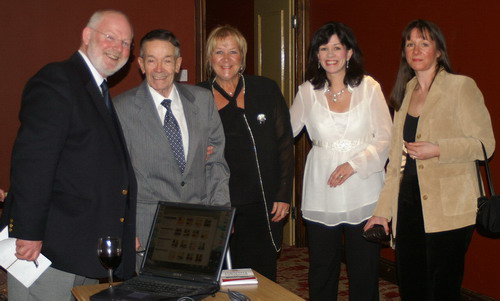 (Above) Harry Houghton, who was Vienna Baker on the Reina del Pacifico, who "just happened" to be celebrating his 80th Birthday in the Packet Steamer! He was accompanied by his daughters Beryl, Barbara and Denise.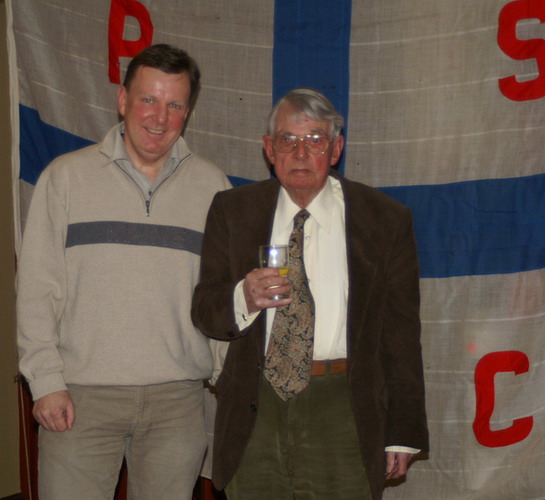 The other special guest was Jack Ellis, the father of Jim Ellis (left).
Jack, who is 88 years of age, served his time starting in 1933 in La Paz, Orduna, Lautaro and Oropesa among others. He sailed as Third Mate for 2 years after his apprenticeship.
Top of page

Attended:-

Ron Berry (2)
Peter Boyle (Sat)
Liz Chittenden (formerly Rybert) (Sat)
Tony Cunningham (2)
Donald Davidson (Fri)
Arthur Downing (2)
Jack Ellis (aged 88) and his son Jim Ellis wih Pat (Sat)
Barry Erskine and Anne (2)
Hugh Farrell & Esther (2)
John Flaherty (2)
J. Alan Gibson - briefly on Friday
Dave and Stan Guy (Sat)
Bernie Guymer and Anne (2)
Tim Harris (2)
Louis Hayler (2) - his cardiac consultant has allowed him to travel from Australia!!
David Houghton (Fri)
Harry Houghton - formerly Vienna Baker on Reina del Pacifico - celebrating his 80th Birthday on Saturday.
Brian "Blue" Lancaster (Sat)
Roy LLoyd and Hilary (2) - all the way from New Zealand!
Stuart McWilliam (Sat)
Les Moore (2)
Dave Newton (2)
Keith Nuttall (2)
Mike & Kath Quirk (Sat)
Alison Stennet (formerly Slater) (Sat)
Brian Stone (2)
Arthur Stringfellow (2)
Gill Thackery (2)
Ian Tickell (2)
Bill Waring (2)
Don & Lesley Wheeler (2)
Colin Whitehead (Sat)
Bob Whittaker (Sat)
John Wile (2)
John Wright aka "Gentleman John" (Sat)
Fri = Friday evening only, (Sat) = Saturday only and (2) = Friday and Saturday
Top of page
---
Trevor Bean - Commitments
Dave Bridson - Booked for round-the world trip on a Bank Line vessel
Martin Brooks - Prior engagement
George Christodoulou & Jean - sadly, a family bereavement and moving house altered their plans
Peter Cleife - Living in Spain
Steve Crosby - Away
Sam D'Arcy & Ann - Away
Chris Ellis - Away
Brian Fairbrother -
Phil & Joan Howes - Commitments
Lloyd and Beryl Hughes - Ill health
Neville Humphreys - Away
Hans E. Imhoff - Commitments
Stuart Jones - Living in Australia
Mike Lee - Away
Neville Lester - Personal
John McGarry - Family ill health
Ian McRae - Working in Nigeria
Don McSporran - Away
George Monk - Unable to attend
Paul O'Hara - Away
Alan Rigby - Family committments
Richard Robinson - Lecturing
Alan and Carol Rushbrook - Health reasons
Angus Shaw - Living in Chile
Geoff Spiers and Margaret - Unable to attend
John A. Swan - Away
Pat Tanner - Away
Adrian van Toren - Commitments
Peter Vile - Will be Duty Pilot
David Webb - Living in Australia
Carl Wass - Working
Top of page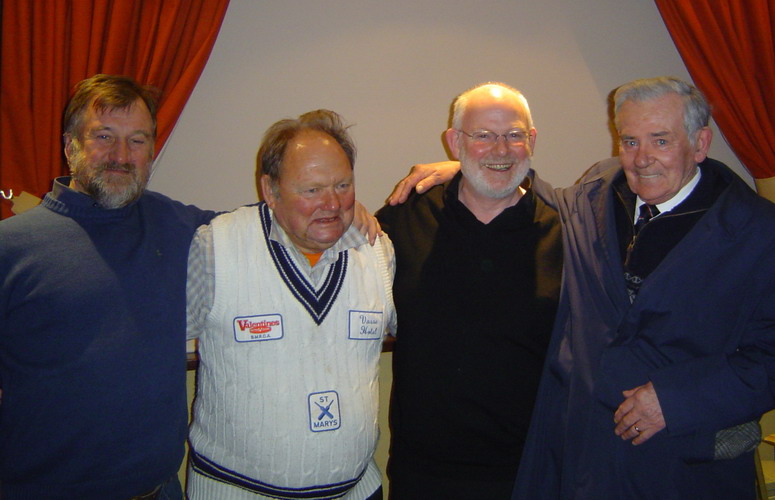 Hugh Farrell, Louis Hayler (who had travelled from Australia!), Barry Erskine and Capt David Houghton.
First time all four together since 1967!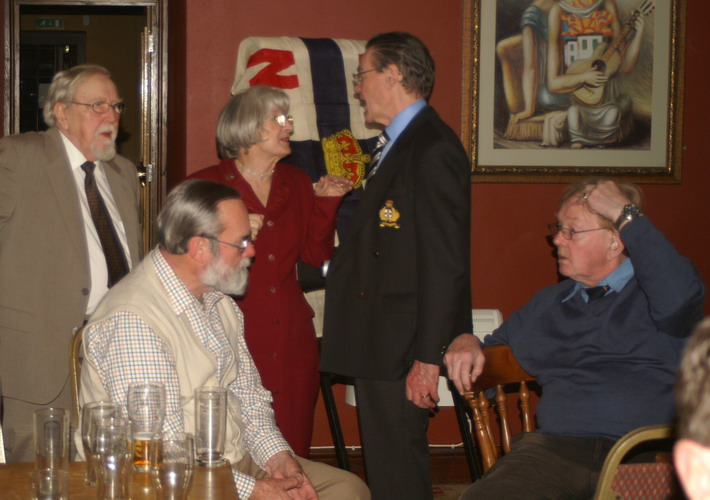 Don Wheeler, John Wright, Lesley Wheeler, Ron Berry and a perplexed Keith Nuttall!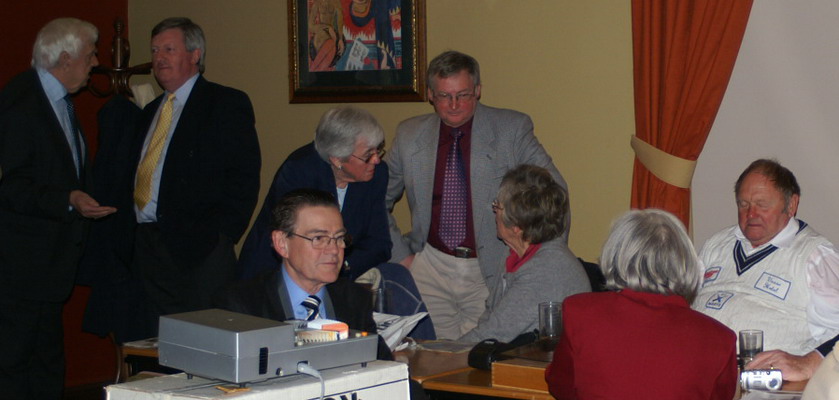 Colin Whitehead, Arthur Stringfellow, Ron Berry, Alison Stennet (Slater), Les Moore, Liz Chittenden (Rybert), Lesley W's back and Louis Hayler gallantly fighting Australian jet lag!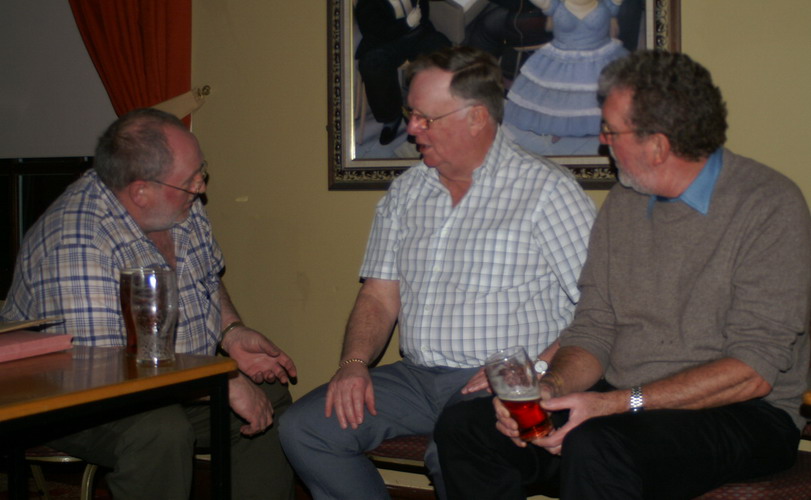 Three mature musketeers . . . Dave Newton, Gill Thackery and John Flaherty
and last . . but definitely not least . . . our furthest travelled friends . .
Roy and Hilary Lloyd all the way from New Zealand! Great to see you!
Top of page

Ken Crowther
Sadly, Ken passed away very suddenly and unexpectedly in July 2005. He was a "larger than life character" and we all missed his cheerful banter and laughter.

Capt Geoff E. Turner
Since the Reunion I have learned that, sadly, Geoff Turner, after a relatively short illness, died at Blackpool Victoria Hospital on 5th April 2006, aged 83. He is survived by his wife Norah and will be sadly missed by all who knew him.
Top of page
---
PSNC index page . . . Photo Index . . . Barry's Site Index Page