2007 Reunion Report
Friday 16th & Saturday 17th March 2007
The 9th Reunion was held at the usual venue - the Packet Steamer, Netherton, Liverpool.

In addition to the "old faithfuls" it was great to welcome many former colleagues who came for the very first time.

Unfortunately, owing to the dates - St Patrick's Day and also Mothers' Day - the Restaurant was booked up for early evening which was an inconvenience. This was the first time we had experienced problems and hopefully it will be the last. In future, should there be a similar clash I will advise you on the web to book tables well in advance!

Friday afternoon and evening was purely a get-together over a few pints but on Saturday night Bernie Guymer gave a highly entertaining and amusing slide show.
Many of us who were at sea in the '50's and 60's couldn't believe the length of the officers' hair (or the perceived sartorial elegance) of many of the young Officers of the 70's and 80's :-)

It was a pleasure to meet Don and Maureen Bull with Zara at the Maritime Museum. However, we were sorry we missed each other at the Pump House and unfortunately, although he tried they did not get to the venue on Saturday night. However, they hope to be there next year!

Attended:-
* indicates "First Timers"
Berry, Ron
Bond, Robert G. (Fri)
Boyle, Peter (Sat)
Bridson, David
Bull, Don and Maureen plus Zara, his guide dog (that's a first Don!)
Erskine, Barry and Anne
D'Arcy, Sam (Fri)
Davidson, Donald (Fri)
Ellis, Jim, Pat and his dad "Jack" (Sat)
Flaherty, John
Gibson, J. Alan (Fri)
* Gowland, Eric (Fri)
* Gregson, Philip and Chris (Sat)
Guymer, Bernie
* Harrison, Alexander
Hilton, W. "Bill"
Houghton, David (Fri)
* Hudson, Alan
* Jenkins, John and Wendy
Kelly, Jeff
* Lee, Mike
McWilliam, Stewart (Fri)
Moore, Les (Fri)
Newton, Dave and daughter * Liz
Nuttall, Keith and Jeannie
* Parke, Terence (Sat)
Parker, Andy (Sat)
Quirk, Mike and Kath (Sat)
* Ratcliffe, Peter
* Richardson, John (Sat)
* Rogers, John and Pat (Sat)
* Scott, Carlisle and Eurwen
* Smith, Phil and Helen
Stone, Brian
Thackery, Gill
* Thomas, Joanna
* Thorburn, Malcolm
Tickell, Ian
* Welton, Chris and Janet
Wheeler, Don and Lesley
Wright, "Gentleman" John (Sat)

Please let me know if I have missed out anyone.
(Fri) = Friday evening only, (Sat) = Saturday only for those who were there one evening only


Top of page
---
Had hoped to attend but unable to:-
Bean,Trevor
Edwards, Mike
Lewis, Peter J
Stennett, Alison (Sat)
Top of page
---
Barr, Ian and Elaine - Unfortunately, Ian has had problems with cataracts and detached retina
Bond, Chris - Ill health
Bradshaw, Ken - living in Australia
Brooks, Keith - work commitment
Corlett, Alan - working abroad
Crosby, Steve
Cunningham, Tony
Dawe, David - family commitments
Downing, Arthur - working in Dubai
Farr, Ken - on a cruise
Farrell, Hugh and Esther - traveling
Harris, Tim - other commitment
Hayler, Louis - problem traveling from Australia
Humphries, Neville - moving house
Jones, Stuart - lives in Australia
Monk, George - in his 90th year! Travel is difficult
McSporran, Don - lives in Australia
O'Hara, Paul - on holiday
Neal, Roger and Anita - work
Plewes, Michael - in Australia
Pringle, Cameron - does not anticipate attending
Rigby, Alan
Roscoe, Steve - in Australia
Rushbrook, Alan and Carol - away
Swaine-Williams, Gwyn and Mavis - family commitments
Swan, John A.
Tanner, Pat - overseas friends visiting
Thornton, Ernie - in Australia
Wass, Carl - abroad on business
Webb, David - in Australia
Wile, John - family commitments
Top of page
---
Sadly two of our former colleagues have passed on since the last reunion:-

Rowntree, Clem - Chief Officer - peacefully on Friday 9th February 2007
Templeton, Robert - Chief Engineer - died of cancer in October 2006
---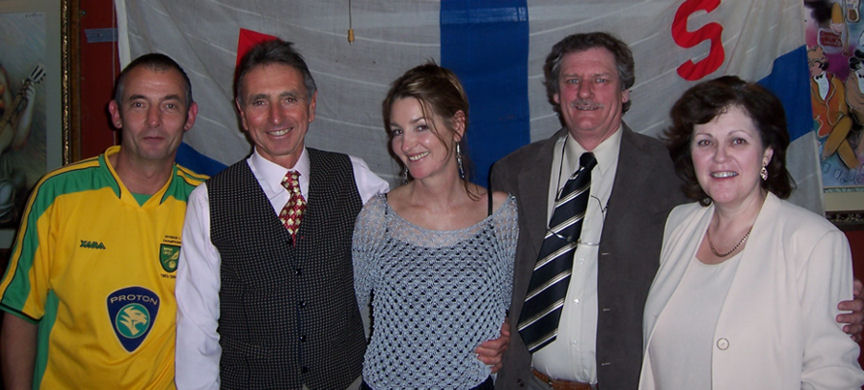 Bernie Guymer, Mike Lee, Joanna Thomas, Phil and Helen Smith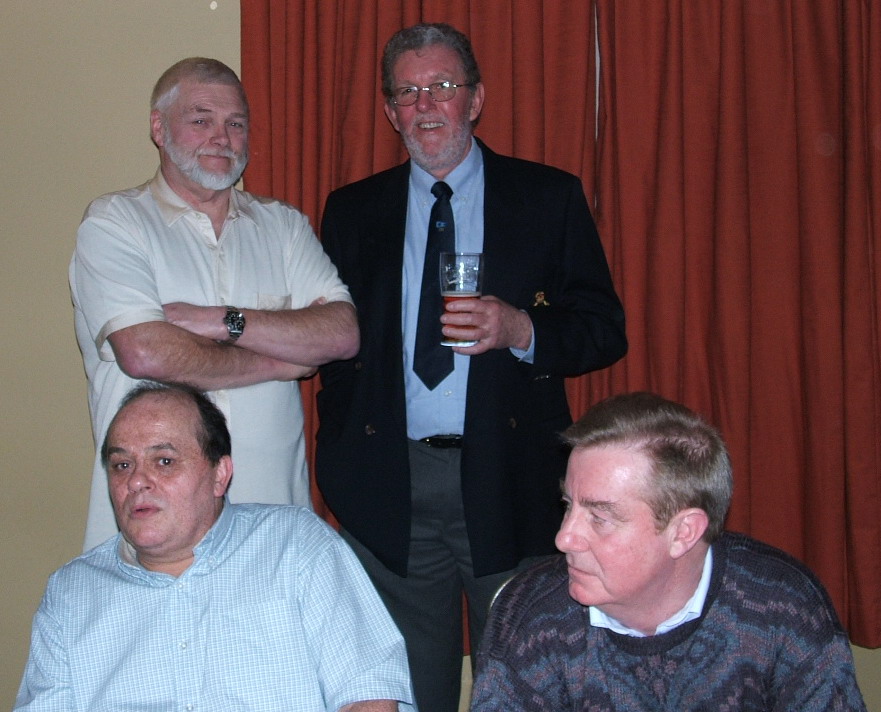 Standing : Terrence Park John Flaherty
Seated : Andy Parker Peter Ratcliffe?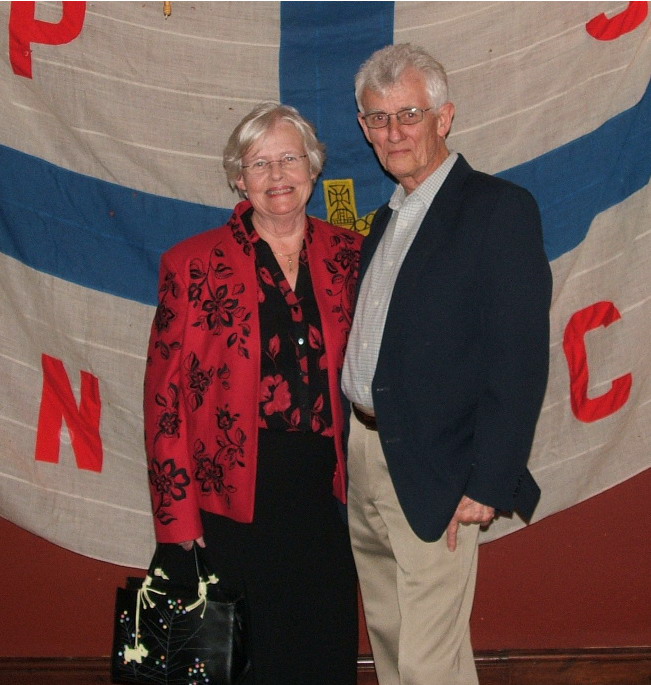 Pat and John Rogers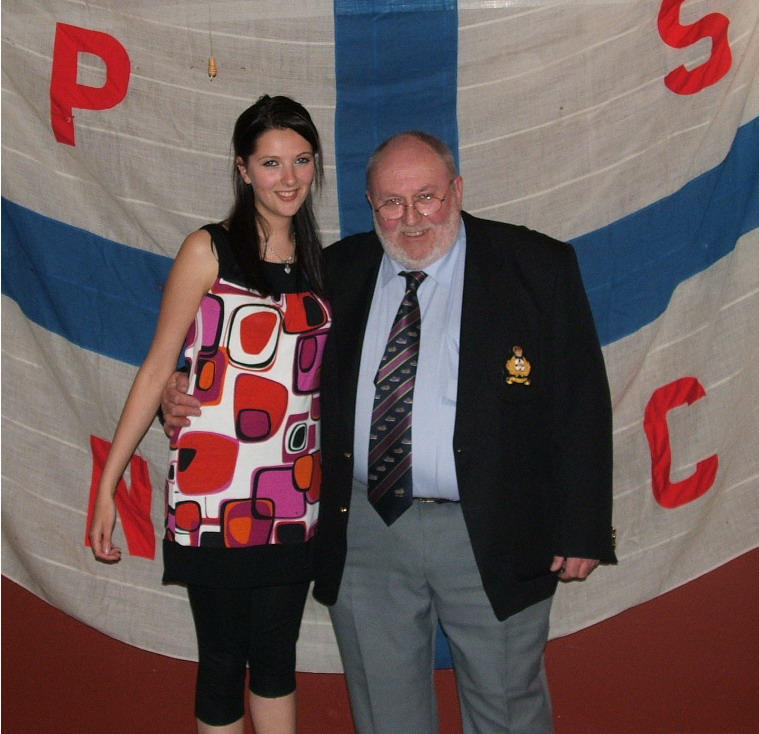 Dave Newton and daughter Liz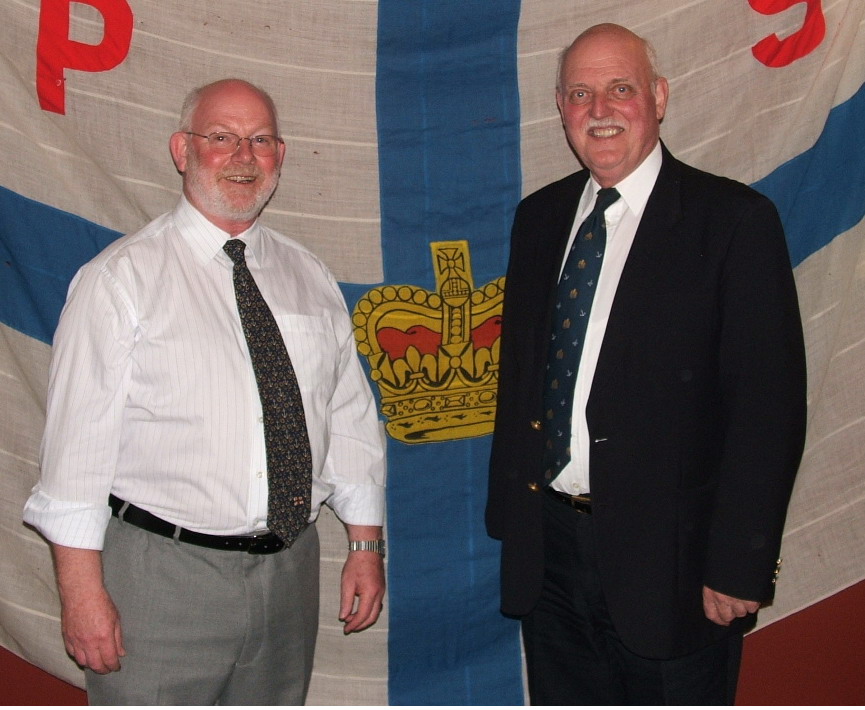 Barry Erskine and Carlisle "Scotty" Scott
Top of page
---
Page updated 13th October 2007
2008 Reunion advance notice
PSNC index page . . . Photo Index . . . Barry's Site Index Page