Captain C. Stowe D.S.C.
From: Mike Stowe

Good morning Barry.....my sincere thanks for replying to my query re PSNC.

I didn't realise that PSNC did not have Personnel records intact....such a pity, as I'm sure there must be an abundance of history among the many officers and men who manned their ships over the years.

Regarding Captain C. Stowe and the Reina del Pacifico....I can only tell you what I am aware of from family history .... some of which, I am sure, tends to become embellished in the handing down. I am sure, however, that my grandfather was with the Reina (presumably as Master) a little before the war, going back and forth quite frequently to South America. In fact his house in Wolverhampton was named "La Paz" after his favorite place.

During the war, he and the ship were under Royal Naval orders, carrying troops and equipment. He went ashore at, I believe, the Sicily landings, (or it may have been the later Italian landings....I'm not sure) and acted as Beach Master, for which he earned the DSC.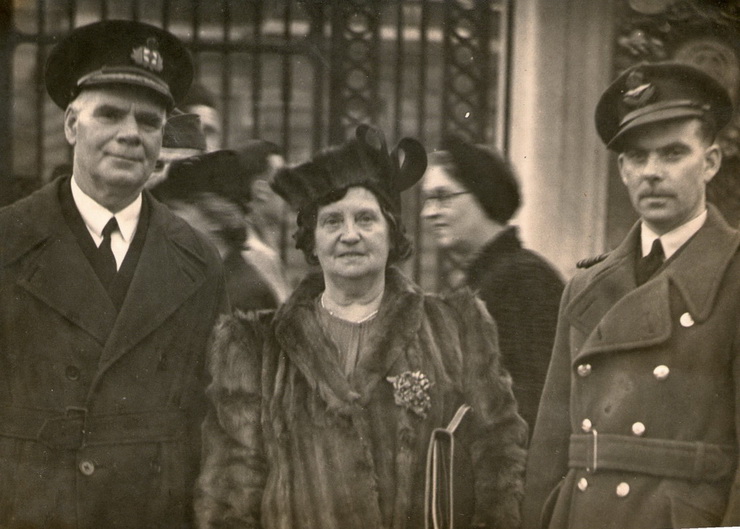 Captain Charles Stowe with his wife Ethel Maud Stowe and their son Squadron Leader Raymond Rollason Stowe
A little while later, he collected King Peter of Yugoslavia from Greece and delivered him to Port Said. The said King awarded him a certificate of the Order of St. Sava for the services rendered by him and the Reina del Pacifico.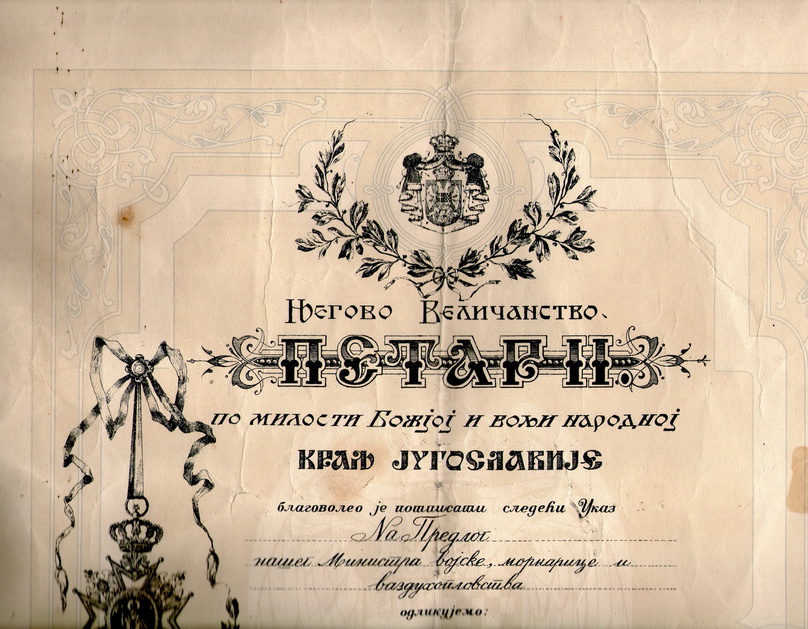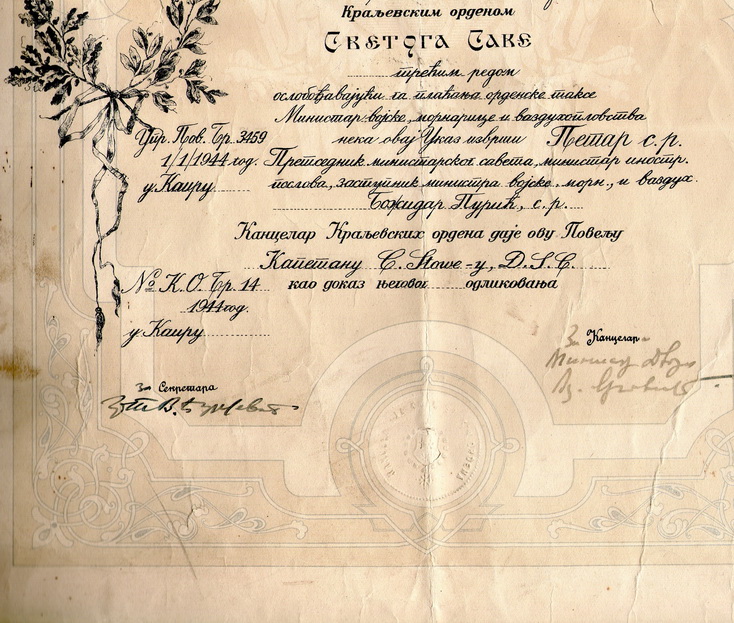 I have attached a copy of this document, albeit in three bits, my scanner being a mere A4. There is also a photograph of him outside the Palace when he received his DSC.
I have no idea when he left the Reina del Pacifico but I used to see her yellow funnels when she was docked at Bootle many times as a youngster living in Crosby, before we went abroad with my dad. Captain Stowe died of cancer in 1947.
I am sorry I can't give any other dates, only vague "Abouts", but I do hope this is of some value to you. Once again, I am grateful to you for your reply and your interest.
May I also add that my young brother, Martin Charles Stowe, joined PSNC as a cadet in 1962/3. He moved on after qualifying, and is now a retired Master Mariner having served on supply vessels and latterly as a pilot in the South China Seas working out of Hong Kong.
My best regards......Mike Stowe
If anyone can add any iformation or detail to this item I am sure Mike and his brother Martin would appreciate hearing from you,
as would I in order to add it here. Barry
Top of page
PSNC index page