Ken Owen's Memories of Years gone by
I didn't realise until now that a PSNC website existed and was alive and kicking! I was a Cadet in PSNC from 1946 until 1950 and sailed on "Samothrace", "Sarmiento", "Laguna", "Orduna" and "Santander" before leaving to get my 2nd Mates Ticket.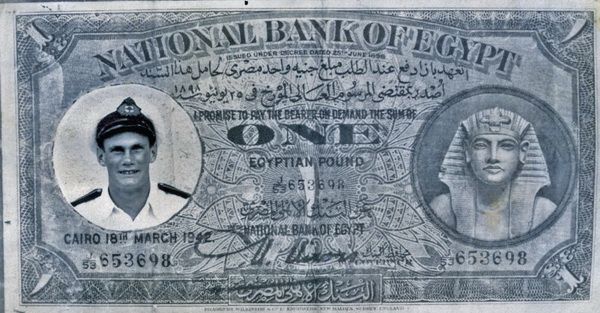 Ken Owen on an Egyptian bank note

I thought I would attach a photo of the Samothrace still in her Wartime colours. It was taken in St. Catherine's Dock London after we had returned from Caibarien in Cuba with sugar and were about to leave for Bone in Algeria in ballast to pick up a cargo of Manganese Ore. The Captain was "Paddy" Rice.

I realise having read the Obituaries that a lot of the shipmates I knew, at least at senior Officer level, are now dead. May I add lightly from the memory of a teenager, some, but certainly not all, not before their time? Captain Horsfall was known I remember as "Donkey Drops". I wonder why?

My late Uncle, Alf Kennedy, was Superintendent Electrician and was aboard "Reina del Pacifico" when she had the accident in Belfast Lough. A long time ago. I also sailed on the "Orduna" with Dr. Hamilton who received the MBE after that same accident. I wonder what happened to him? He was, if I remember correctly, an Irish Rugby International. I enjoyed seeing the photo of "Sniffy" Richards. Sorry to see that Frank Leicester is deceased. A lovely man as was Capt. Whitehouse.

I attached a photo of the old "Lagarto" as it's probably outside the memory span of, and will hopefully prove interesting to, the majority of our colleagues.

The "Lagarto" was the first ship I was posted to. She was alongside in Liverpool and there was a dense smog that night when I arrived to board her so I didn't appreciate her "classic"!! lines until the next day. The smog was in fact so dense that we were conducted from the dock gates in parties by a policeman and felt our way to the gangway by touch not by sight. The Cadets' quarters were enormous; one large cabin for the 4 of us. In answer to my enquiry I was told that with the help of a following wind she had been known to make 7 knots. I was spared a voyage aboard as before she sailed I was sent to Middlesborough to join "Samothrace" (later "Talca"). I do however remember a little ditty sung by the Cadets:-

The Lagarto's the pride of the PSNC
She's F... All to look at and got nothing to eat
So roll up the "Rodney" and roll up the "Hood"
She's a 3 masted B.....d that's no F.....g Good.

Thinking about those times evokes all kinds of memories. In 1946 there was a tremendous waiting list in all Shipping Companies for Cadets; however my uncle Alf Kennedy was Superintendent Electrician of PSNC and able to use his influence, so my wait was very short. I remember that my Indentures cost my parents £45 that was to be returned to me in 4 annual tranches, £6, £7 and the remainder over the next 2 years. Some wage for 12 months hard graft eh? Our problem arose when the Health Service was introduced and we had to pay a weekly stamp which took all our annual pay!! We lived on £6 per month "Danger Money" while at sea, paid by the Government, and while on leave in our Home Port 35/- per week subsistence allowance. It's interesting to recall that although we were paid £6 per month "Danger Money" ALL the rest of the crew received £12 per month. Talk about being considered expendable, it was bad enough being considered that by the Marine Super. Horsfall but by the government as well??

During my 2nd year the Unions came to our rescue insisting that we were paid some form of living wage, I think the words "slave labour" were used to describe our plight. I can't now remember what we were subsequently paid but it was, I know, far better but made none of us millionaires. I can also remember that clause in our Indentures - "Thou shall not enter Alehouses or Taverns or Houses of Ill-Repute except on Company's business" - it was always amusing and quoted often in the Half Deck. Did it survive into later Indentures? I wish I still had mine or a copy but somewhere along the way they got lost.

On a good day, with a following wind,

I too am able to remember all kinds of little anecdotes of my days spent in good close company, though often with a Holystone or Chipping Hammer in my hand so it couldn't have been all bad. Did you ever strip yourself after a day down the hatch in Peru loading Alpaca while your fellow Cadet removed the fleas from your back and elsewhere or was that in another age? Did I say happy days? After I had finished my time with PSNC I had, in company with a lot of Cadets, insufficient Sea Time to take my 2nd Mates Certificate. I waited patiently for PSNC to offer me an uncertificated Mates job to no avail.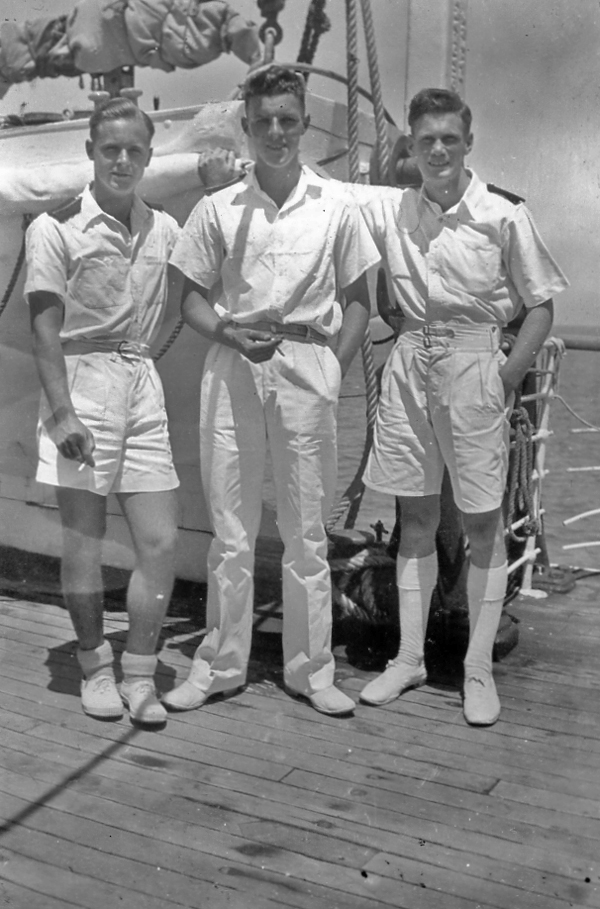 Above : Three Cadets on the Orduna 1948-50
L to R: ??? Whittle who later became a Purser: Unknown Cadet: Ken Owen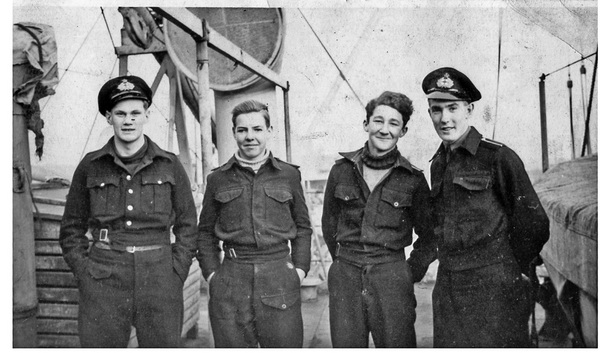 Above : Cadets on the Samothrace 1946
L to R: Ken Owen : Unknown Cadet who later died in motor cycle accident in Africa in the 1950's : Peter James : Neil Luck
I registered on The Pool in London and was given a 3rd Mates position with Goulandris of London. Sod's Law dictated that no sooner had I accepted and joined the "Laurentian Forest" in London, PSNC offered me the 3rd Mates position on the "Talca" (former "Samothrace") where Captain McGill had just been appointed Captain. It was too late then so regrettably I never went back to PSNC.
Having obtained my 2nd Mates Certificate I joined Blue Funnel and sailed with them until I obtained my 1st Mates Certificate. I had by then already decided to leave the sea and up until the time I was due to take my Masters I sailed with Canadian Pacific to enable me to visit friends in Canada where I had lived throughout the War Years. Leaving the sea I went to College in London, became an A.R.I.C.S. in the early 60's and a F.R.I.C.S. in early 70's, retiring from my own Surveying Practice in 1994.
They were happy but very hard working days and never did me any harm. Memories for names fail me now, unfortunately, but I can remember sailing as Cadets with Captain Williams son, Phil Lambert and the son of Martin the Chief Constable of Liverpool. Probably others may come to mind when I'm relaxed and not thinking about it.
I have attached a few photographs of long ago happy days, some of which may be interesting. I also attach a recent photo of myself to prove to all those who predicted an early and sticky end to Cadet Owen that it didn't happen: he's nearly 80, has enjoyed a very happy and rewarding life and remains alive and well in Southport.
Golf Challenge Trophy for "Rusty Zips" Golf Society in Almerimar Spain, March 2008
That's my "potted" history. I lost my wife 10 years ago and now spend the majority of my time travelling the world, golfing and yachting. It's not a bad life though.
Some news that could be of interest. I very recently (2008) attended the funeral of Ted Newton who had served as Electrical Engineer On Reina del Pacifico, Santander, Salaverry and one of the newer ships in the 1950/60's. Perhaps someone remembers him. He was a lovely chap and a good friend.
I like to think I will be able to attend the next reunion but in the meantime if anyone remebers me and would like to get in contact I would be delighted to hear from you.
Ken Owen (May 2008)

PSNC Index page

Top of page