mv "MELPOL" RESCUE
(Formerly "Somers Isle" built for P.S.N.C. in 1959 at Harland & Wolff, Belfast and sold in 1971)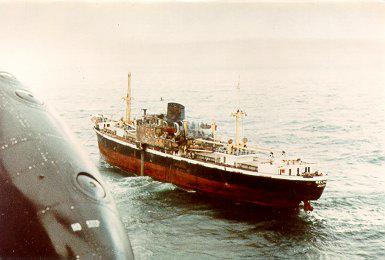 In the early hours of Tuesday 8 December 1981, a call for assistance from the Jersey registered mv "Melpol" was relayed to the Royal Fleet Auxiliary (RFA) "Engadine". The "Melpol" was on fire in adverse weather conditions (gale 8) 40 miles south-east of St Catherine's Point. Consequently, two Royal Navy Sea King helicopters of 737 Squadron were launched from RFA "Engadine" at 0425 and 0440 to carry out a search and rescue operation.
We located the "Melpol" 50 minutes after take off and saw she was heavily ablaze amidships. The fire had engulfed her entire superstructure and was giving off thick acrid smoke. She was also lying crosswind and wallowing in heavy seas. We saw two groups of survivors on deck, one on the forecastle and another larger group at the aft end of the ship. The decision was taken to commence winching the survivors from the ship in spite of the problems and risks that this entailed in the difficult conditions then prevailing.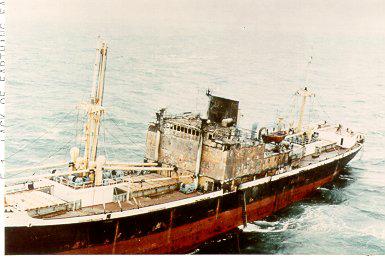 My aircraft commenced winching operations from the forecastle area and the other Sea King began at the aft end. The first time I was lowered to the deck I experienced a static discharge so severe that it knocked me off my feet. We winched the two survivors from the forecastle, one of whom was injured, and together with three others from the after end flew them to the container ferry mv "Europic" which by this stage was closer than RFA "Engadine". Our two Sea Kings then settled into a shuttle routine winching off survivors and taking them to the "Europic". In all, 28 crewmen (believed to be all Filipino) were rescued. At the end of the winching operation both Sea Kings took part in an abortive search for a missing crewman, who was later presumed to have perished in the engine room. Both Sea Kings then returned to "Engadine".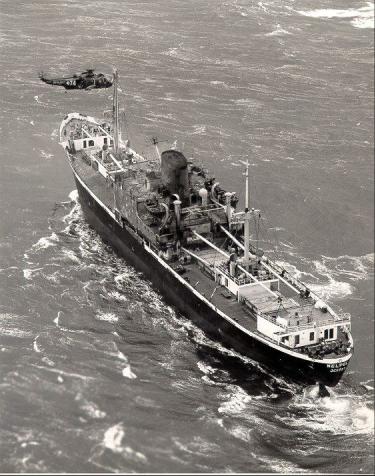 All the while, RFA "Engadine" closed the "Melpol" and at daybreak transferred firefighting and salvage teams by helicopter. The rest of the day was spent successfully fighting the fire and preparing the ship for salvage. Eventually, a tug arrived and the "Melpol" was towed to Rotterdam.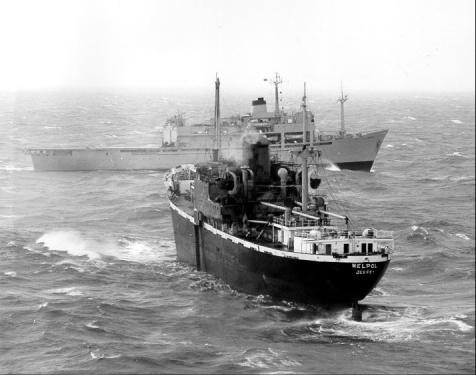 The Sea King crews received Queen's Commendations for their part in the rescue, as did certain members of RFA "Engadine's" firefighting and salvage teams. The following year, the Sea King crews collectively were awarded the Edward and Maisie Lewis Award by the Shipwrecked Fishermen and Mariners Benevolent Society.
Sincere thanks to Paul Newman for supplying this Report, the Photographs taken at the time and for giving permission for them to be published on these pages.
---
Fleet Index . . . PSNC index page